Music Store TV auf der Musikmesse Frankfurt 2011 – Pro Light and Sound
Eine Musikmesse jagt die nächste … Gerade noch auf der NAMM 2011 in Anaheim/Kalifornien den Terminen hinterher gehetzt, um die neuesten Trends in Bild und Ton einzufangen, sind wir vom 6. bis 09. April schon wieder unterwegs – diesmal auf der weltgrößten Musikmesse 2011 Pro Light and Sound in Frankfurt!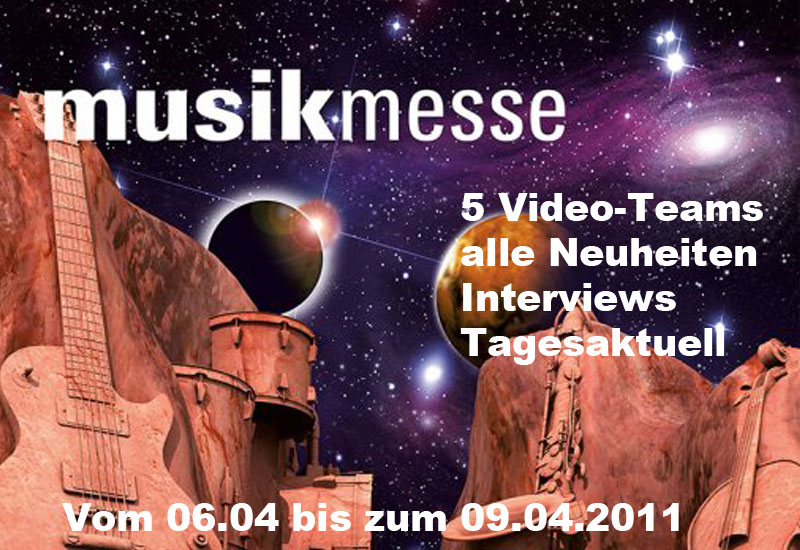 Alle namhaften Unternehmen der Musikbranche sind vertreten – von Fender über Gibson, Ibanez, Yamaha, Sonor, Paiste, American DJ, Avid, Mackie, AKG, Neumann, Sennheiser, Alesis und viele mehr! (Eine komplette Liste der teilnehmenden Firmen findet sich unten)
Die Videos werden zum größten Teil direkt vor Ort noch auf der Musikmesse geschnitten, bearbeitet und sofort hochgeladen, so daß sie noch am gleichen Tag bereits gesehen werden können!
Wir liefern die Musikmesse Frankfurt 2011 frei Haus! 🙂
Seien Sie live bei den aktuellsten Präsentationen mit dabei, bei Vorführungen, Interviews und Live-Auftritten!
Die Musikmesse 2011 präsentieren wir natürlich in mehreren Sprachen:
Wir freuen uns auf Sie – schalten Sie ein und folgen Sie uns quer über die Musikmesse 2011!
Das Music Store TV -Team
Info Video – Musikmesse 2011 Pro Light and Sound in Frankfurt
Für alle die sich die Musikmesse 2011 in Frankfurt nicht nur als Video anschauen, sondern live dabei sein wollen, ist der Music Store wieder mit 2 Messeständen vor Ort. Auf dem Außengelände erwartet Sie wieder unser Airliner, sowie der Cadillac El Dorado. Hier bekommen Sie kostenlos den pünktlich zur Messe erscheinenden Katalog Hits und News 2011 II.
Aber auch der Keyboard- und Orgelhersteller WERSI, der exklusiv vom Music Store vertrieben wird, ist mit einer Weltneuheit auf der Musikmesse 2011 vertreten – lassen Sie sich überraschen.
Zum Schluss ein Auszug der Liste der Aussteller:
A Designs Audio, Access Music, Acoustica Inc., ADAM Audio, Aerial7, Akai Professional, AKG Acoustics GmbH, Allen & Heath, American Audio, American DJ, Ampeg, Aphex, API, Apogee, Applied Acoustic Systems, ART, Audio-Technica, Audix, Auralex, Avid, Avalon, Behringer, beyerdynamic, Blackheart, Blackstar, Blue Microphones, Bogner, BOSS, Bricasti Design, Bugera, CAD Audio, Casio Inc., CF Martin, Chandler Limited, Cort, Crane, Song, Crest Audio, Dangerous Music, Dave Smith Instruments, dbx Professional Products, Denon, Digidesign, DigiTech, Dunlop, Dynaudio Acoustics, Earthworks, Empirical Labs, ESI Audiotechnik, Euphonix, Eventide, D' Addario, D-Box, Electro-Voice, Faber, Fender, Flaxwood, Focusrite, Focal, Fostex, FXpansion, Gibson, HEAR, Heil Sound, H20, Hercules, Ibanez, Ibone, IK Multimedia, IKEY-Audio, ION, iZotope, Inc., JBL, John Bowen Synth Design, Joe Meek, Jomox, Kawai, K&M König & Meyer, Klark Teknik, Korg, KRK Systems, Kurzweil, K. Zildjian, LAB Professional Audio, Laney Amplification, Lexicon, Line 6, Little Labs, Logitech, Lynx Studio Technology, M-Audio, Machine Drum, Mackie, Manley Labs, Magix, Marshall, McDSP, Mesa Boogie, Microtech Gefell, Midas, MixMeister, Mojave Audio, Monster Cable, Moog Music Inc,. MOTU, Nady Audio, Neumann, Neutrik, Nord, Numark, Oak, Oasis, Ocean Way Drums, Oktava, Palmer, Peavey, Phoenix Audio LLC, Phonic, Pioneer, Planet Waves, PreSonus, Primacoustic, Prism, PSPaudioware.com, QRS Music, QSC, Quint, RFT Funkwerkt, Radial, Radial Engineering, Radikal Technologies, RME, Rob Papen,, Royer Labs, Samson Audio, S&M, Sabian, Sabine Engineering, Sennheiser, SE Electronics, SMPRO Audio, Solid State Logic, Sonic Core, Shure, SONiVOX, Sonnox LT, Sony, Spectrasonics, SPL, Stanton, Steinberg, Studiologic, Studio Projects, Synthax, TC Electronic, TC Helicon, T-Rex Engineering, TabToolkit, Taishan, Tannoy, TASCAM, Teac, Techamp, Tech21, Telefunken, Toft Audio Designs, Tube-Tech, Ultimate Support, Ultrasone, US Audio, Universal Audio, Valley People, Valentino, Vovox, Vox, Walden, Washburn, Waldorf, Waldorf Music, Waves, WaveMachine Labs, Inc., Xone, Yamaha, Yamaha Corporation, Yellow River, Zarenbourg